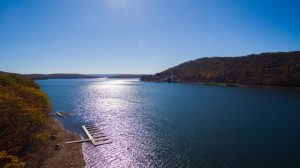 With fall coming to an end and winter just right around the corner now is a great time to think about your dock! Are there any repairs that need to be done? Who is going to remove my dock?  Where am I going to store my dock? Then possibly the most important question, do I need to consider getting a new dock?
Looking over your dock to ensure there are no damages from the summer usage is important. If there is something wrong it is better to catch this sooner rather than later and repairing it right away so you don't end up with additional damage and possibly a much more expensive fix.
Putting a dock in, dock removal, and even dock storage is also important. This is something that you need to consider this time of year so you are already on track for the upcoming summer!! You want to be sure someone is properly taking care of this to ensure the lifetime of your dock.
Now that we have considered the basics of the winter season, if you are thinking about upgrading your dock give us a call and ask about our winter special so we can have your new dock ready to go for the spring of 2016!