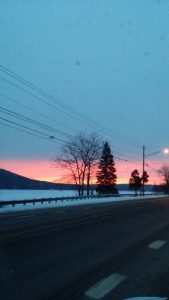 The calm before the storm Friday 1/22/2016           The aftermath on Sunday 1/24/2016
Winter is Finally Here!
                It only took until almost the end of January but I think we can officially say winter has arrived in Deep Creek and is here to stay! After the crazy snow storm on January 22nd and 23rd that delivered us 30+ inches of snow, now let the fun begin. We have been seeing skiers, snowboarders, snowmobiles, and lots of children just plain happy to be finally playing in the snow.
The Wisp is now open for everything from hitting the slopes, to the mountain coaster, tubing, and even ice skating! Although people are not getting to enjoy their docks on the lake right now there are still a lot of people taking advantage of Deep Creek Lake this winter. Ice fishing and snowmobiling are two of the most popular lake activities right now.
While people are taking part in the many winter activities that our mountains have to offer we are staying plenty busy. This is when we are manufacturing the brand new docks that will be hitting the water this spring. Now is a great time to check on prices if you are considering a new dock. During this time of year we do offer a winter discount so be sure to check into pricing before this offer ends!
From us here at Lakeside Dock Sales to you and your families, stay warm out there and have a safe winter! We look forward to hopefully doing business with you, "make your next dock last a lifetime."